"The sociological imagination enables us to grasp history and biography and the two within society"
C. Wright Mills
Department of Sociology
The Department of Sociology at D.A.V. College Bathinda is established in 2019 to impart knowledge on the subject of sociology at graduation level.The objective of this subject is to demonstrate knowledge for understanding society from sociological prespective.
VISION:
The vision of the department of sociology is to achieve an excellence in the field of education and transmit knowledge in sociology to promote social development.We aspire to inculcate values of public engagement,civic responsibility and social service through our courses among the students and to sensitize the students about the social issues that are prevalent in the society.
Faculty of the Department:
Sr. No.
Faculty

Period
From
To
1
Prof. Manpreet Kaur Punia
22-08-2022
Till Date
Courses Offered:
B.A.
DAV College Bathinda Observes World Heritage Day (20 April 2023)
The Department of Sociology, DAV College Bathinda in association with the Eco Club celebrated "World Heritage Day 2023" in the college. The theme "Heritage Changes" was portrayed very creatively by the students.
As many as posters were presented on varied themes like Heritage and Culture of India, Effects of Global Warming on Heritage monuments, Preservation of Monuments, etc. The first position was bagged by Hardiljeet Singh Brar (BA II), second position was won by Gurjivan Singh (BA I) and the third position went to Harleen Kaur (BA I). Award of Appreciation was won by Komaldeep Kaur (BA II).
The event was judged by Dr. Satish Grover (Registrar, HoD English), Dr. Vandana Jindal (HoD Computer Science), Dr. Sukhdeep Kaur (Department of Punjabi &Youth Coordinator) and Prof. Karampal Kaur (Department of English).
Principal Dr. Rajeev Kumar Sharma stated that it is the need of the hour to preserve our cultural heritage and to pay attention to the climatic changes and hazards which the beautiful monuments confront. He further added that by organizing such programmes, we can make the youth appreciate the richness and diversity of our cultural heritage and motivate them to work towards conserving the global heritage. He also appreciated the efforts of the students in portraying the beauty of our heritage sites and the need to preserve them for posterity. Dr. Rajeev Kumar Sharma applauded the dedicated efforts of the Convener Prof. Manpreet Kaur Punia from Department of Sociology for organizing this event meticulously.
The occasion was graced by the presence of Dr. Kusum Gupta, Prof. Meetu S. Wadhwa, Prof. Monika Bhatia, Dr. Paramjeet Kaur, Prof. Seema Rani, Prof. Harpreet Kaur, Prof. Kulwinder Kaur and Prof. Kiran.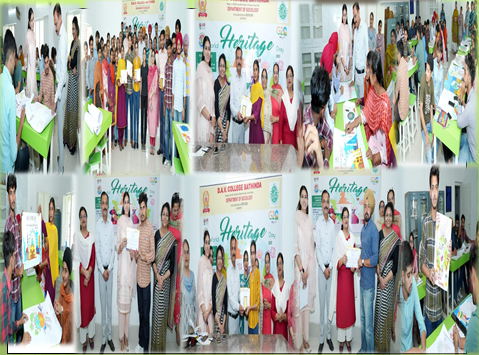 Quiz Competition by Sociology Student Association of DAV College Bathinda.