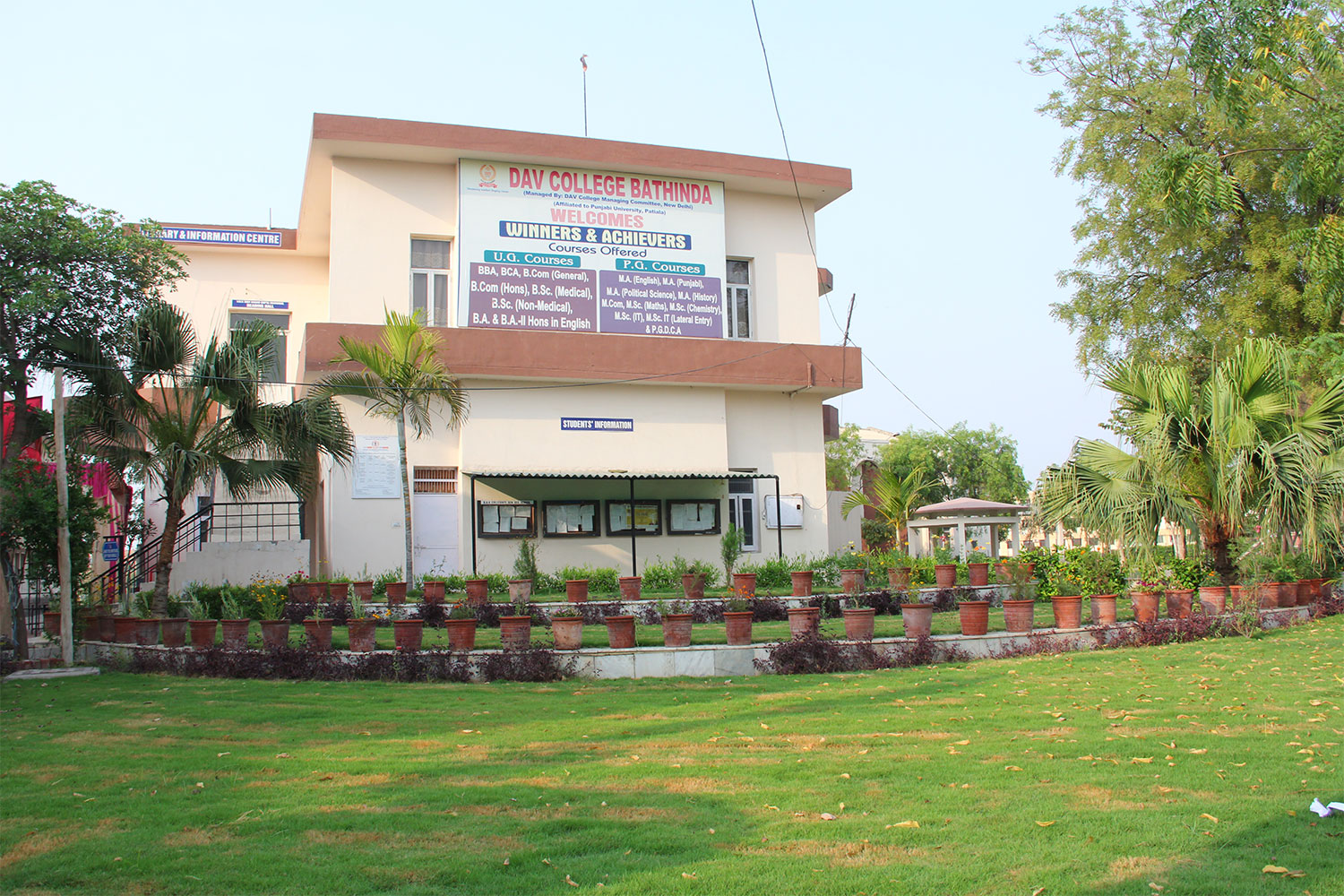 D.A.V College, Bathinda beckons the young aspirants to the world of opportunities. Keeping in sync with the Vedic values, the education imparted at this institution is instrumental in nurturing the cognitive abilities and shaping careers of the promising youth.
Established in 1969, the glorious journey of 50 years of DAV College, Bathinda has led it to carve a niche for itself in the academic fraternity by nurturing the promising youth of the country. It has now emerged as a major educational centre affiliated to the Punjabi University, Patiala, offering diversified educational facilities in the fields of Computer, Management, Commerce, Humanities and Science. The college offers nine Post-Graduate, eight undergraduate and other value added programmes. Venturing towards imparting the best and the latest in the field of science and technology and upgrading the acumen of the students in the diverse fields, new courses have been introduced, new labs created and the already existing ones have been upgraded.
The Physical Education Department, N.S.S, N.C.C, Youth Welfare and Students Welfare Association work towards the proper channelization of energies of the students and inculcation of leadership qualities amongst them. The college has catapulted to greater horizons, as is evident from the laurels and accolades won in diverse fields of academics, research, sports and extra-curricular activities. Well-known for its stellar performance in the field of cultural activities and in sports, it is acclaimed as a nursery of Punjab and National Style Kabaddi. Various cells and clubs in the college have been constituted for the holistic development of the students. These units groom and enable the students win many prestigious awards by the highest chairs in India. The accolades won by the students and the college pervade from cover to cover. The students have displayed their talent not only at state and national level, but also represented the country and won awards at International level.
The entire campus is WiFi enabled, CCTVs are installed at strategic places, proactive measures are taken in making the entire campus eco friendly and Rain Water Harvesting System has been installed. The state of the art infrastructure of the college includes spacious class rooms, ICT enabled classrooms, separate Post-Graduate Block, Innovation Hub with 25 Live Science Demonstrations, Computer Center, four State-of-Art Computer Labs and an Office, well-stocked and fully automated Library, DBT Sponsored Labs in Physics and Chemistry departments, Student Center cum Food Court with modern facilities and refreshing ambience, RO Water Plant, Silent Generators for the uninterrupted Power Supply, Solar Lights, Well maintained playgrounds, Multipurpose Gymnasium Hall, State of the art Seminar Hall and many more imposing structures.
Envisaging a better tomorrow for its students, DAV College, Bathinda inculcates values amongst the youth, keeping them grounded to their cultural moorings, thus promoting morality and sobriety of life. Making ethics their guide, culture their armor, knowledge their shield, the youth would sure walk with confidence and learn with enthusiasm.