To conduct various departmental activities student committee was constituted. Committee represents students of political science from undergraduate and post graduate courses.
Vision
Association of Political Science Students (APSS) is an open forum in which students and fellow members of the academic community can share their opinions and ideas, while promoting a thoughtful and constructive discourse. Apart from representing the interests of students in the Political Science department, APSS actively engaged in hosting a variety of events that are geared at enhancing the learning experience for students in political science at the D.A.V. College Bathinda. Events include discussions, guest lecturers, academic seminars where renowned scholars, academicians and social activists are invited.
Association Members :-
| | | | | |
| --- | --- | --- | --- | --- |
| POST | NAME | ROLL NO. |  CLASS | CONTACT. NO. |
| PRESIDENT | Gurpinder Singh | 6710 | M.A 2ND | 79863-36976 |
| VICE PRESIDENT | Anjali | 4503 | B.A.3rd | 98140-94139 |
| SECRETARY | Gourav | 4014 | B.A.2nd | 97807-48712 |
| VICE SECRETARY | Gurpyar Singh | 3582 | B.A.1ST | 9463403340 |
| FINANCE SECRETARY | Jyoti | 6612 | M.A 1ST | 90410-48531 |
Academic Activities :
The Student Association of Post Graduate Department of Political Science of DAV College Bathinda organized a quiz competition on "Indian Constitution" on Nov. 14, 2019 to commemorate the Constitution Day celebrated on 26 November every year.
Under SVEEP initiative, training cum awareness programme on ethical voting and EVM/ VVPAT held on march 08, 2019

National Voter Day celebrated on Jan 25,  2019.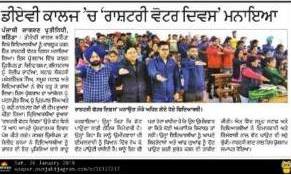 Dr Ronki Ram, Professor, Deptt. Of Political Science, Panjab University, Chandigarh delivered Keynote Address on National Seminar on "Institutions of Democracy: Challenges and Prospects in Present Scenario" Sponsored by Indian Council of Social Science Research, New Delhi on October 30, 2018.
Dr K.K Rattu, Former Director Doordarshan, Chandigarh and Dehradun delivered lecture on "Role of Media in Exposing Scams in India" on 15th March 2014 in ICSSR Sponsored National Seminar 15 March, 2014.
Dr Jupka Madhavi, Senior consultant, Ministry of Women and Child Development delivered lecture on "Human Rights" in National debate on "Human Rights" in collaboration with International Human Rights observatory, 7-8 Feb 2014.
Discussion on "Pt. Jawaharlal Nehru's Democratic ideals" on 14 November, 2013.
Dr. Jamshid Ali Khan, Professor, Department of Political Science (correspondence) and Dean of Colleges, Punjabi University, Patiala delivered lecture on "Decline of Indian Political System" , Dec., 2011.
Dr. Inderjit Singh Sethi, Former Professor and Head, Department of Political Science, Punjabi University Patiala delivered lecture on "Judicial Activism" in National Seminar, 22nd Feb., 2008.
Academic Tours/ Trips :
PG Dept. of Political Science organized an educational trip to Panchkula from 23rd March, 2019 to 25th March, 2019. 31 students benefited from this educational trip.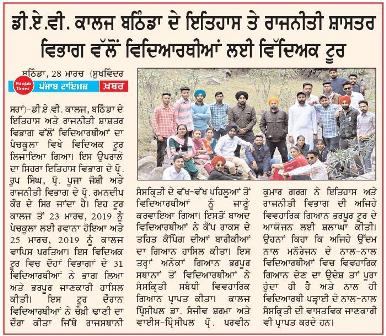 Farewell Parties :
The Department organized a Farewell party for the Students of MA-II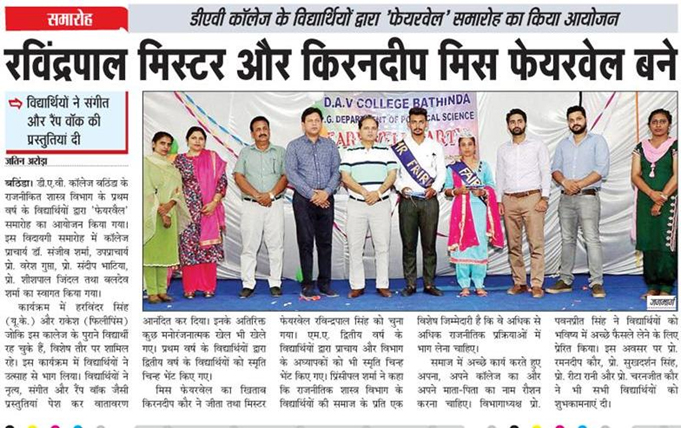 The Department organized a Farewell party for the Students of MA-II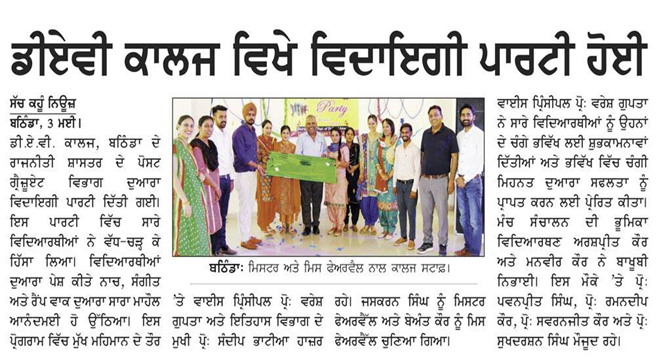 The Department organized a Farewell party for the Students of MA-II