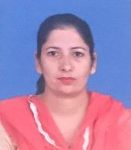 NAME :  Ms. Kiran Kaur
QUALIFICATION :  M.A.(Pbi.), M.Phil, UGC-NET
DESIGNATION :  Assistant Professor
EXPERIENCE :  3 year and 3 months
Email id :  kiranjit2007@gmail.com
Contact No: 99882-50102
Papers Presented/Published  in National Conference 
Papers presentation/published on 'Niman kirsani di samasia nu pesh karda natak  kudhkashi de mod te' in National Seminar  Proceedings on Agricultural Crisis and farmers' distress in Punjab organized on   10 March, 2017 at DAV College, Bathinda,  ISBN 978-93-5181 205-0.
Paper presentation/published on 'Vishvikaran de daur wich badal rahe punjabian de khaan peen de shaunk' on 31 March, 2017 in National Seminar held in Department of Punjabi, DAV  College, Bathinda.
Papers Presented/accepted in National/International Conference 
Paper presented on Social Media te Naujwaan Peedi on 16.2.2019 in one day National Seminar on Repercussions of Social Media on Language.
Paper presented on Ucheri Sikhia lai Social Media Var Ya Saraap on 4.3.2019 in one day National Seminar on Role of Media, Social Media and Internet in Hiher Education.
Paper presented on Guru Nanak Baani Da Samajik Mahatav in one day International Punjabi Conference on Guru Nanak Dev Ji di Baani te Vichardhaara on 19-20 March 2019.
Papers Published  in National Journal
Kalakar sahitayak sapandak kawargeet bhattal, Ajmer aulakh de natak salwan wich nariwadi chintan october december 2017, ISSN 23481609
Participated in Training Programmes and Workshops
Participated in 6 DAYS workshop  " Translators' Orientation Programme for Knowledge Text Translation into Punjabi", Punjabi University Regional Centre, Bathinda.
7 day Faculty Development Programme attended on "Recent Trends in Digitization & Research methodology" from 02 jan to 08th jan, 2017 in DAV College, Bathinda